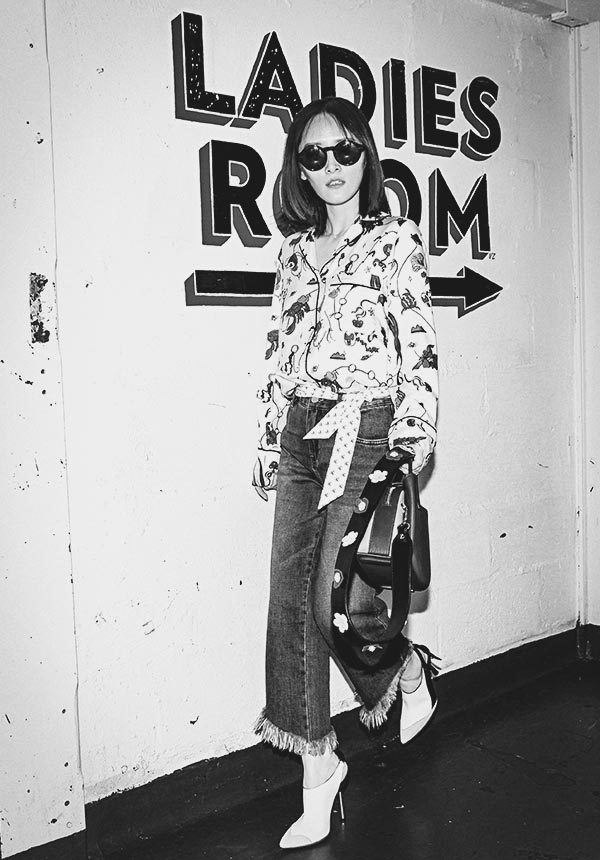 Hugo Yu, a.k.a. Yu Xiao Ge, a talented cyber business startup entrepreneur, fashion industry tastemaker, social network celebrity, former editor-in-chief & digital GM of Harper's BAZAAR China (HB China), proprietor of iSnob & iDS - two lifestyle APPs curated by her, offering top nitch, diversified, sophisticated style for fashion snobs.
Indeed, Yu, was the youngest editor-in-chief in the history of China Fashion Media Industry and the first native fashion content creator to raise voice in the technology industry. Yu understands all sides of the fashion community - from the craft of couture to street style, trendsetters to aspiring models, and storied fashion houses to emerging designers. In her career life with HB China, Yu organized, interviewed, and wrote countless of impressive stories. She becomes a lovely Chinese friend to many world-class fashion designers and top connection in the industry. "Despite my love for the job, Harper's Bazaar afforded me such amazing opportunities, and I learned so much from so many amazing people - the brands that I partnered with, the artists that I worked with," she says. "And it led to who I am today, which was really an experience that I feel fortunate and lucky to have had - meeting all these extraordinary people, working on a project that I really just poured my soul into for 9 years."
In 2012, Yu was the creative director for program of a series of exclusive cover stories with the 20 most acclaimed fashion designers such as Mr. Armani, Karl Lagerfeld, and Donatella Versace etc. to celebrate the 26th anniversary of HB China. She was invited for exclusive interviews to Dolce & Gabbana's home and shared a memorable trip with the readers. Yu also worked together with the distinguished Photographer Nico, they created the exclusive cover of Domenico Dolce, Stefano Gabbanaa, and the two designers' Muse Bianca Balti, not even mentioning shooting with legendary Photographer, Terry Richardson for the award wining cover model Miranda Kerr.
In 2013, Yu launched issues of Harper's BAZAAR Movie and Harper's BAZAAR Star as the founder and editor-in-chief. Yu led her creative team, cooperated with numerous famous movie stars and fashion icons, created many brilliant cover shootings, she created unforgettable works collaborating with China's most well known movie directors like Yimou Zhang, XiaoGang Feng, and Kaige Chen, and celebrities including Ziyi Zhang, Ni Ni and Angelababy.
In 2014, Yu took on the hybrid role and started her own column amid much excitement on Wechat building a prominent profile for herself within the fashion industry, her column underwent a number of dramatic changes. Yu now has upwards of 1 million Wechat column followers, 300K Weibo followers, and her posts that regularly receive thousands of comments. With her sizeable social media following, the role appears to be a natural fit for the former magazine editor-in-chief, who continue to grow relationships with her favorite brands and fans on China's #1 lifestyle APP. As a result, adversing partners with LV, Chaumet, Cartier, Chopord, Lincoln, LandRover, LamerTods, Dior, Net-a-Porter, Shopbop, etc. became royal subscriber.
Yu shocked many when she announced at the end of 2015 that she was to leave her position as editor-in-chief of China magazine Harper's Bazaar after almost a decade at the position. She called the decision "intensely difficult." Many headline reported her resignation and her fans were devastated. She wrote a farewell letter, "Goodbye, our Golden Age" and immediately received millions of views and comments and countless blessings from her fans.
As a social media pioneer,Yu admits that the demand on her time were simply too great and she wanted to spend more time focusing on a new era for her fashion life - a glossier, more polished and aspirational era. Her first creation were 2 lifestyle APPs, iSnob and iDS, freshly launched in June 2016. iSnob hit #1 in Paid Lifestyle APP Store Rank for 43 consecutive days. Along with iDS, a social community media APP. iDS is now the only Q&A fashion community APP in China, targeting affluent Chinese consumers worldwide. Just in one month, the amount of high quality contents that this small community has generated has gone beyond what traditional media could do in the timeframe of years. Many fashion insiders, editors, bloggers, celebrities, have become active fans of the community. "My goal is really just to continue to evolve the APPs and make them the resource for a new type of lifestyle," she continues, "someone who I know is out there, because it's me, it's you, it's everyone in this office. We want to really celebrate the fun and joy of fashion."
Yu will continue her work to be the best possible partner to everyone in the fashion community, and will start early 2017 at her NYC office. Stay tuned for more updates of Yu coming soon.